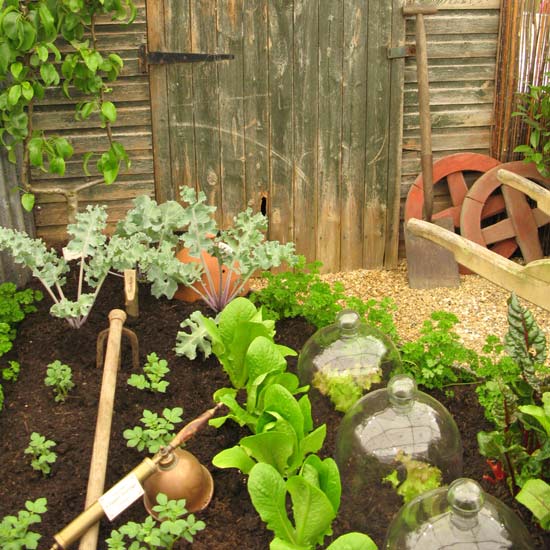 You don't have to sacrifice a beautiful garden to grow your own fruit and vegetables.

The Pennard Plants Wartime garden at this year's Chelsea Flower Show uses ruler-straight rows of lettuces and gleaming antique bell jars to create a garden that looks as good as it tastes.

To get the look in your garden, mark out a bed for planting and enclose it with a decorative stone edging. Plant your favourite vegetables in straight rows and label with handwritten cards.

Finally, invest in some hard-wearing copper tools. Not only will they last a lifetime but they look beautiful leaning against the shed.
For more garden ideas and expert gardening advice see our garden gallery.
Style idea for you to try: terracotta pots and antique glass look perfect in a traditional vegetable garden.
Rope-top Bradstone border edging from B&Q
Buy handcrafted copper garden tools from Implementations

For more gardening ideas see the Homes & Gardens website.