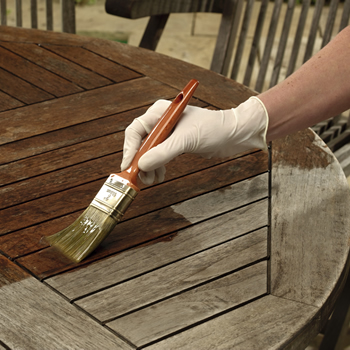 * Teak oil will protect hardwood furniture from the elements and keep it looking new. Before you start, make sure the furniture is dry and lightly sand it with a fine-grade sandpaper. Using a rag, apply the oil, rubbing in gently and following the grain. You can add more than one coat of oil, but make sure they dry thoroughly before you apply the next.
* If your hardwood furniture is a few years old and has silvered with age, you can restore it to its original colour by using a specialist wood restorer. Paint on, leave to work for up to 15 minutes, then wash off. 
* If you have plastic garden furniture, simply wash it down with hot, soapy water with a splash of bleach in it to get rid of any dirt or stubborn stains. Use a sponge rather than anything abrasive, so as not to scratch or mark the surface, and rinse thoroughly before the furniture dries.
* For a quick spruce up, run the brush over the surface of the wood, plastic, metal or fabric – the bristles will get into all the awkward nooks and crannies, and get rid of any loose dirt, dust or cobwebs that have built up over the winter.
Use our product finder to find the right garden furniture for you.
Visit housetohome's directory to find garden retailers in your local area.
Plus! Check out garden furniture on the housetohome shop