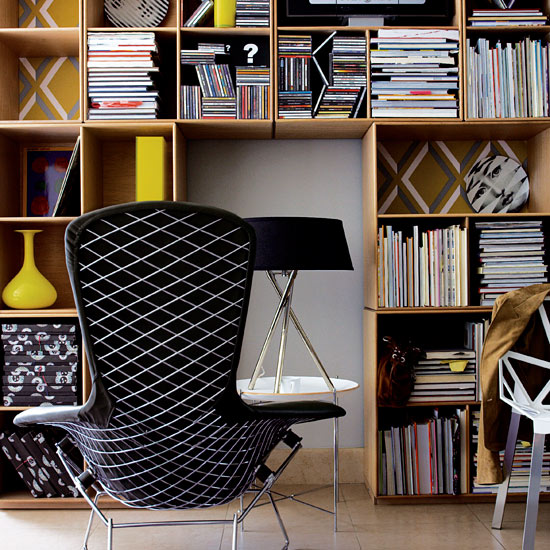 Okay, we know you put them on shelves of some description, but the way you stack your books can make all the difference.
See how to display your books to their best advantage with our 7 shelving ideas.
Build shelving under the stairs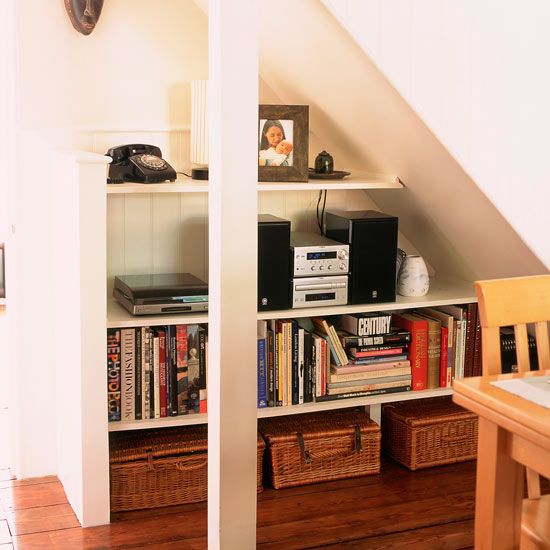 Utilise wasted space - and make a feature of your stairs - with a custom-built bookcase.
This hallway makes the most out of the spare space with built-in shelving underneath the stairs for books, CDs and even a music system. It's a great way to keep your scheme clutter-free.
Get the look: For super-smart under-stair storage solutions, visit Project Orange.
Display your books like art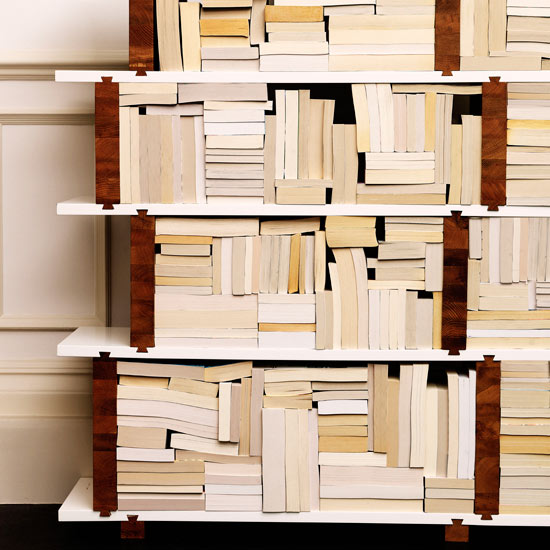 Unsightly book collection? Turn them into a quirky yet eye-catching feature by arranging them at different angles.
Alternatively, fit face-out book shelves to show off your more attractive tomes.
'Though you might want to stash away your trashy novels, some books just beg to be kept on display,' says Carolyn Robinson, Director of Interiors at interior architecture and design company FT2. 'Displaying your favourite art and photography books is also a subtle way of saying a little bit about yourself.'
Layer colours and sizes over one another for best effect, and shuffle them round to create an ever-changing display that can be added to whenever you choose.
Get the look: Find great value shelving at IKEA and face-out shelves at Twentytwentyone.
Create your own library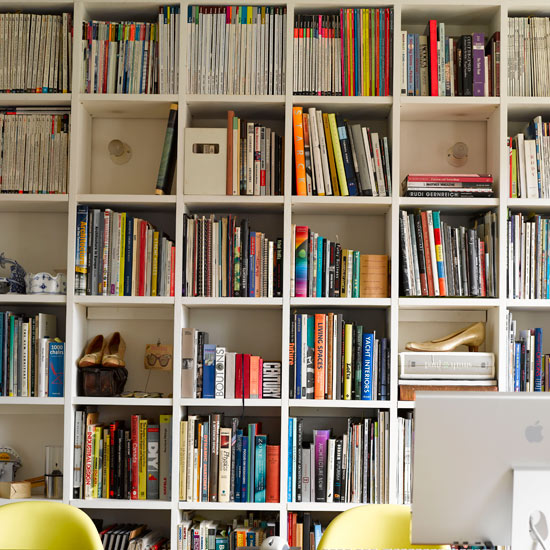 Take bookcases as high and wide as possible to maximise space and create an impressive-looking reading corner.
'Walls lined with books have a richness of texture and colour, as well as being wonderful insulation,' says Interior Designer John Stefanidis. 'Shelving can also be used to correct less-than-perfect proportions, and books on shelves to the side and over the tops of doors or arches always look good.'
Get the look: Domus could supply and fit shelving like this. Get a bookcase ladder from furnitureatwork.co.uk.
Use a bookcase as a room divider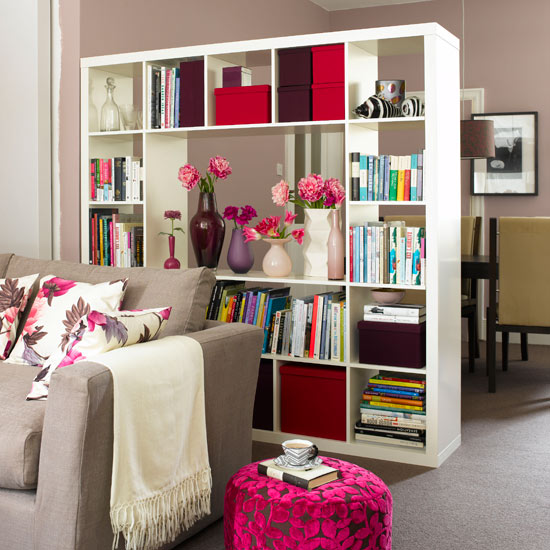 Build a freestanding bookcase that can be used to zone a space and offer extra storage. This storage solution cleverly divides an open-plan area without enclosing the space entirely.
Open shelves are ideal for pulling light into the room. Place accessories between your books to create a stylish display
Get the look: Visit Architect Your Home for bespoke shelving solutions to suit your needs. For open shelving, look at the classic modular system by Vitsœ, which can be compressed between a ceiling and floor.
Install tailor-made shelves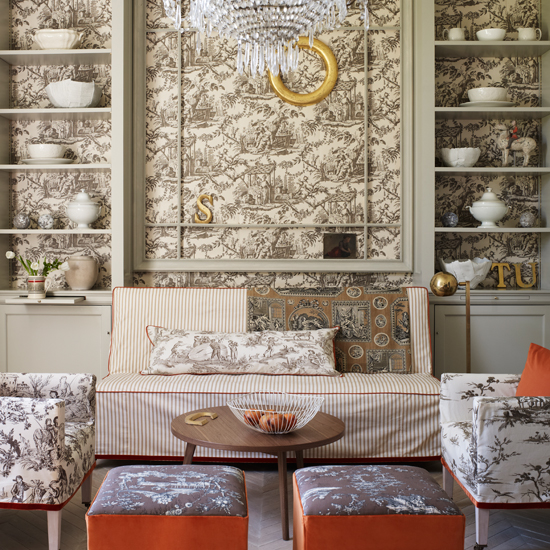 If you're planning on putting up shelves, don't just span the wall with standard ones.
'Building bespoke shelves offers a great opportunity to create something much more individual,' says Mark Dyson of Enclosure Architects. 'Think about the height of your books and plan accordingly. Not only do individual nooks create a pleasing display, but shelves tailored to suit particular tomes help make the most of every inch.'
Get the look: Get fitted shelving from London Cabinet Company or visit myhammer.com to find a tradesperson.
Create compact shelving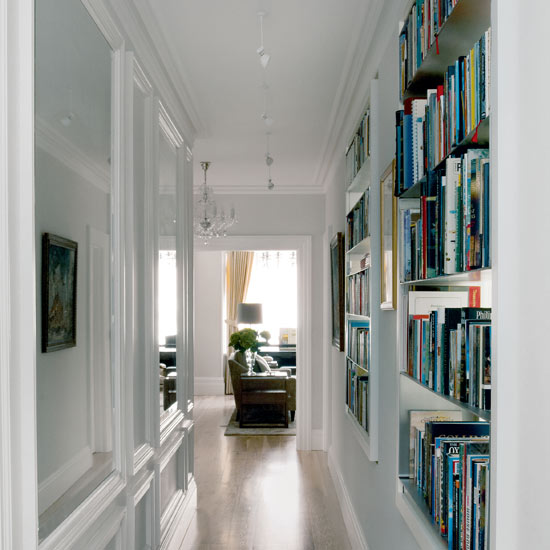 Make a feature of otherwise ordinary niches by lining up elegant volumes.
Stash beautifully bound books in a disused fireplace as a colourful alternative to candles or logs. A windowsill can also make a good shelf, but don't leave precious books in the sun as they're likely to fade.
This hallway makes great use of space, by installing shelving within the walls.
Get the look: Visit Ratedpeople.com to find a tradesperson in your area.
Colour block your books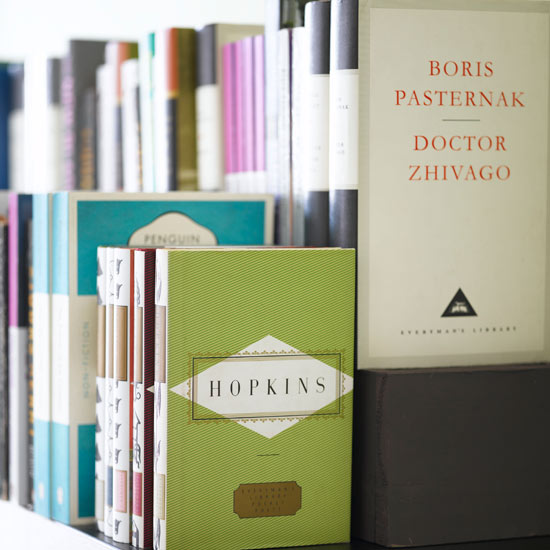 Forget alphabetical order - the most stylish way to stack your shelves is according to colour.
'Colour coordinating your books can make such a big difference,' says Furniture Designer Bethan Gray. 'I have my collection on shelves painted an understated dove grey, but any uniform colour would look good.' The great thing is this works with everything from a small stack of paperbacks to a whole library.
Get the look: Visit IKEA for great-value shelving units, or get bespoke shelves from Custom Carpentry.
For more decorating, craft ideas and cleaning hacks don't miss our dedicated DIY guide.