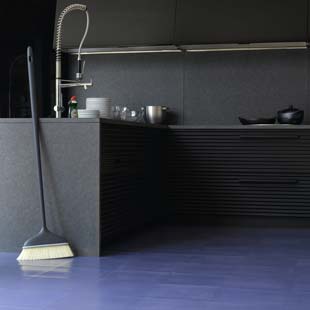 Rubber flooring is silky, warm and tactile, and comes in a huge range of colours and textures. Architects say they use rubber as it's so resilient, yet it feels soft underfoot. And think of it this way, if it doesn't wear out in an airport, then it won't in your kitchen! Choose a smooth surface or low-profile studs in a kitchen as they are easier to clean, and be careful what products and polishes you use to maintain rubber flooring, especially initially, as it's softer when it's new.
Linoleum flooring is similar in feel to rubber, but linoleum is made up of totally natural and sustainable ingredients. Lino is really tough, but at the same time tactile and warm to the touch, making it comfy underfoot. It's also hygienic: bacteria can't live on it and it doesn't harbour dust mites, making it ideal for people with allergies.
Vinyl flooring has come a long way from old-fashioned vinyl sheeting. Modern designs are exceptionally hard wearing, and can replicate the look and feel of anything from wood and stone to zinc and glass. It can also be warmer and quieter underfoot than the real McCoy. Vinyl flooring such as Amtico is a good option if you have no time to maintain a delicate surface, but still want the look of a natural material.