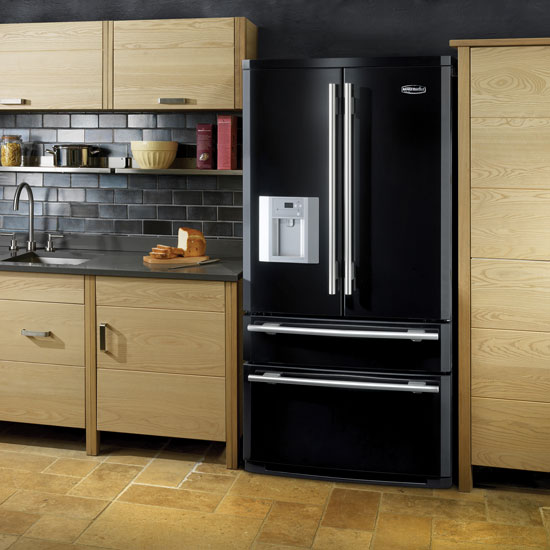 Looking to upgrade your current fridge freezer? First take a look at our handy buyer's guide on how to buy a fridge freezer before you do.
How much space do you have? 
One of the first things to think about is the space that it will take up in your kitchen. Extra-wide American fridge freezers live up to the adage that big is beautiful, and come in two different layouts. Side by Side (SxS) models with a tall fridge on one side and a freezer on the other are popular, since you don't always have to bend down to reach for things in the freezer, but DxD (Door and Drawer) designs are making friends fast. They have a fridge at the top, with two French doors opening onto wide shelves that can accommodate platters of fish, racks of ribs, 12-inch pizzas and the like. The freezer is located in drawers below, where it's easy to see what's stored inside.
But while American-style fridge freezers look amazing and can be packed with food and drink, not everyone has room for one in their kitchen. With an upright fridge-freezer of around 60cm wide, you can still take advantage of the latest features and technology, just in a smaller package.
You might also want to consider an integrated appliance, which will blend in well but may offer fewer functions than freestanding models.
Consider the capacity split between the fridge and freezer
If you like to cook from scratch every night with fresh ingredients, look for a big fridge. Prefer to bake in batches or are you a sucker for three-for-two offers? Then prioritise freezer space. A total capacity of 260ltr is adequate for most households.
Think about the location

Make sure you have good ventilation for any stand-alone appliance, or else the compressor will work overtime, creating a build up of frost. If you are investing in a machine with an ice and water dispenser, be aware that it needs to be connected to a water supply. Most will need to be plumbed into the mains, which may result in extra installation costs and can limit where you put your appliance. You'll also need to change the water filter regularly. Some models will have their own refillable water tanks.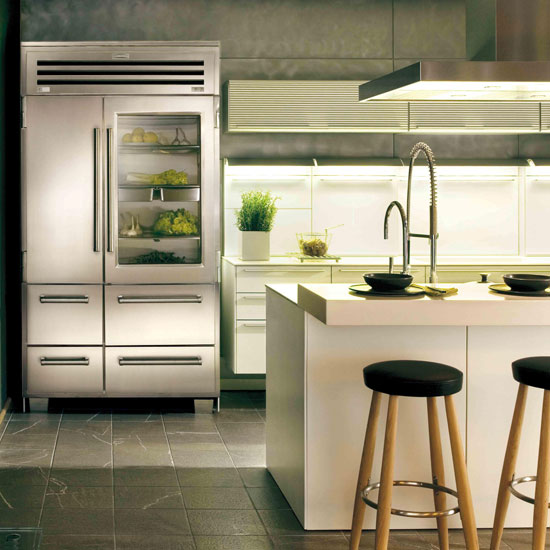 Energy Rating American-style fridge freezers guzzle more power than your average 60cm-wide appliance, so energy efficiency is all the more important. Go for at least an A+ rating to keep bills down.
No frost/frost free Prohibits icy build-ups that can steal away freezer space and means there's no need for defrosting.
Humidity-controlled crisper Prevents cucumbers from going soggy or drying out by keeping them at a higher humidity than the main fridge. This is also helped by...
Twin cooling systems that keep the airflow in the fridge and freezer separate. 
Cool zone Preserve meat and dairy more effectively by keeping it close to 0°C, as opposed to the 2-5°C of the main fridge.
Fast freeze Activate after a trip to the supermarket or batch cooking session to lock in the moisture and flavour of fresh food.
Fast cool Quickly chills freshly prepared desserts, or wine, lager and other drinks for a party.
Holiday mode Keeps your freezer running, but saves energy either by switching off the fridge completely, or raising its temperature to around 14°C so that eggs, butter, etc stay fresh.
Inverter compressor  Where some fridge freezers have just one power level, inverter models have several, so if you only open their door for a second or two, they'll use the lowest power level to cool it - in other words, the appliance never uses more energy than it needs to. They're quieter than regular compressors, too.
Safe and sound Glass shelves are more hygienic and easier to clean than wire racks, and for ultimate hygiene, fridges with anti-bacterial linings use silver to kill germs witout harming the food itself.
Transparent freezer drawers Allow you to see what is stored without opening the drawer, increasing energy efficiency.
Even temperature Hot air rises so foods in the fridge should be stored accordingly. An airflow system does away with guess workby circulating cold air around the cavity, maintaining an even temperature throughout.
Beverage doorlet Access milk and drinks via a mini flap in the fridge door.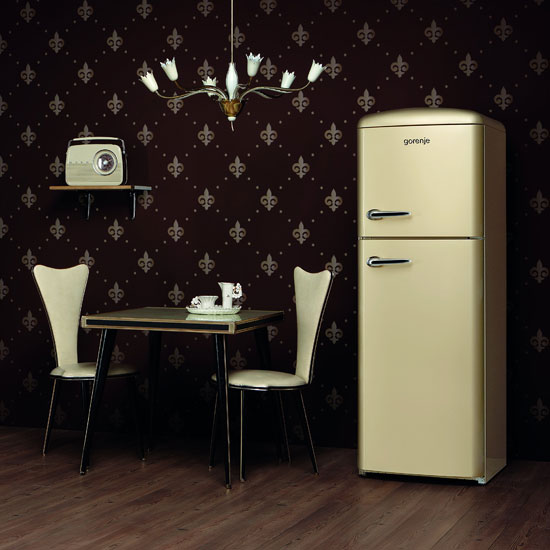 Why do fridge freezers need safe disposal? 
Refrigeration equipment contains ozone depleting substances (ODSs) and CFCs that are harmful to the environment and these must be professionally removed before the item can be scrapped or recycled.
How can I dispose of my fridge freezer?
Many manufacturers will now collect your old appliance when they come to deliver your new one. Alternatively, take your fridge freezer to a recycling centre, or contact your local authority to come and collect it. There are also independent companies that offer disposal services of harmful waste, such as We Clear Junk.
For more information on recycling your appliances, visit DirectGov.
Take a look at out product finder collection on American-style fridge freezers for inspiration.