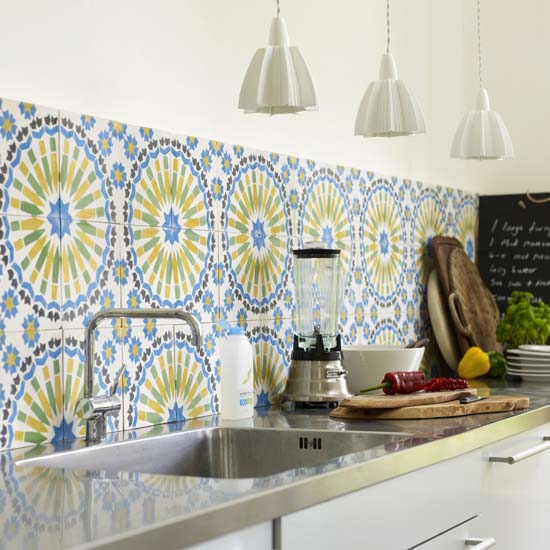 Inset
Probably the most common type of sink, inset designs come in a wide variety of shapes and sizes, and are fixed in place with the rim of the sink and drainer overlapping the worktop. They can be fitted into a surface made from any material and are, therefore, an extremely flexible option. Effectively sealing the space between sink and counter top, they work particularly well with Formica or wood finishes, which can be vulnerable to moisture.
Undermounted
Undermounted sinks are ideal for use with all types of solid surfaces including wood, stone, Corian and glass. The bowl is fixed in place underneath the kitchen counter, giving a really smart, modern look. 'Fitting an inset sink into a beautiful granite worksurface would be a wasted opportunity when you could have a sleek, undermounted sink,' says Lawrence Pigeon. 'They are also cleaner, as any spills or crumbs can be wiped straight into the bowl without getting stuck at the rim. Bear in mind, though, that they can't be used with laminate worktops.'
Flush Mounted
Similar to stainless-steel undermounted sinks, flush-mounted models sit level with the work surface. The main difference between the two designs is the narrow perimeter that is left around the edge of flush-mounted bowls, where taps or soap dispensers can be installed. This area can also be extended to make sure the drainer is completely level with the worktop. For a coherent kitchen look, these designs look particularly good teamed with flush-mounted hobs, and also work well with wooden worktops.
Integral
As both the sink and counter top are manufactured from the same material, for example stainless steel or a synthetic solid surface, there are no visible seams between the separate components. The result is a sleek, contemporary and low-maintenance design.
Belfast or Butler
Known for their robust, hardwearing features, these sinks can look as good in a modern kitchen as they do in more traditional schemes. There is not much difference between the two classic designs, other than the fact that butler sinks are a simple rectangle, whereas Belfast models have a weir-type overflow to one side. Be aware that, instead of fitting directly into your kitchen units, as most other sinks would, both of these need to be bracketed onto the wall behind the worktop.