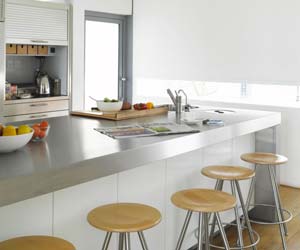 If your kitchen is the heart of your home, why not consider fitting a breakfast bar for family breakfasts and kids' teatimes.
* Firstly think about how many will fit comfortably around the
breakfast bar
. As with kitchen chairs, think about the height between the stool and the worktop and make sure there's plenty of leg room.
* Look for adjustable stools that can be moved up and down so they can be used by both adults and children.
* Bar stools with back supports are a safer choice if children will be using them, as are designs that don't swivel round.