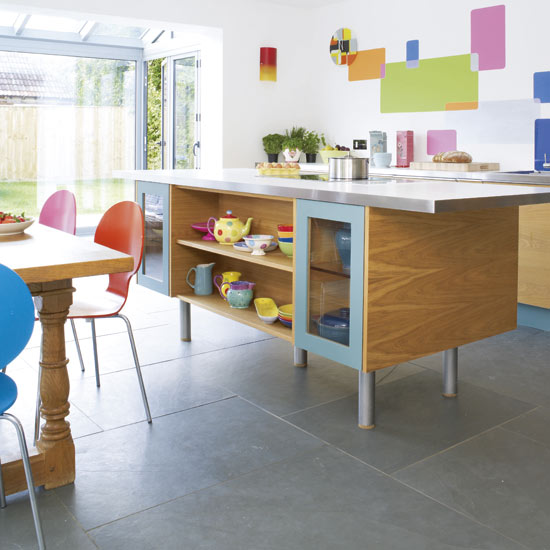 It's easy to overlook the kitchen floor when you're thinking about what units, appliances and added extras you're going to have, but your choice of flooring can make or break your kitchen look.
From limestone to linoleum, concrete to cork, there are a host of flooring materials on offer that can be used to enhance your cooking zone.
But before you set your heart on solid wood or splash out on ceramic, here are some important points to consider.
Ultimately, as with any interior project, your kitchen flooring is very much down to your tastes. So, you may like to have a scheme where worktops and flooring match, or one where they simply complement each other. In some cases, contrast might be more up your design street...
Here's how to achieve the perfect result for you:
To coordinate, go for materials in the same finish (matt or gloss) and match the colours as closely as possible. Either choose a material that can be used for both worktops and floors, or match, say, awalnut floor to a rich brown stone or composite worktop.
Alternatively, contrast the finishes in the same colour, or contrast the colour in the same finish, such as a dark matt flooring with a pale matt composite worktop. You could even contrast both, such as a matt slate floor with a polished white granite worktop.
Whatever you choose, do bear in mind that kitchens are a long-term installation and investment - make sure you won't tire of the finishes or colours you choose! 
Before you make a final decision on your preferred type of flooring, here are some things to consider:
If you intend to lay underfloor heating in your kitchen, be careful what you choose to lay over the top of it. While underfloor heating can be used with most modern flooring - stone and concrete warm up and retain heat well - some wooden floors, particularly extra-wide boards, certain veneers and some types of adhesive, can be heat sensitive.
Most flooring is best fitted by a professional. Some needs to be factored in at the start of the kitchen design process, whereas others can be installed afterwards. Ask the manufacturer in advance to avoid any nasty, costly surprises!
Even if your floor is sealed, you should still wipe up spills as soon as possible. And remember to use products recommended by the manufacturer to ensure you don't strip oils, lacquers or sealants from underfoot!
 Rubber flooring is silky, warm and tactile, and comes in a huge range of colours and textures. Architects say they use rubber as it's so resilient, yet it feels soft underfoot. And think of it this way, if it doesn't wear out in an airport, then it won't in your kitchen! Choose a smooth surface or low-profile studs in a kitchen as they are easier to clean, and be careful what products and polishes you use to maintain rubber flooring, especially initially, as it's softer when it's new.
Linoleum flooring is similar in feel to rubber, but linoleum is made up of totally natural and sustainable ingredients. Lino is really tough, but at the same time tactile and warm to the touch, making it comfy underfoot. It's also hygienic: bacteria can't live on it and it doesn't harbour dust mites, making it ideal for people with allergies.
Vinyl flooring has come a long way from old-fashioned vinyl sheeting. Modern designs are exceptionally hard wearing, and can replicate the look and feel of anything from wood and stone to zinc and glass. It can also be warmer and quieter underfoot than the real McCoy. Vinyl flooring such as Amtico is a good option if you have no time to maintain a delicate surface, but still want the look of a natural material.