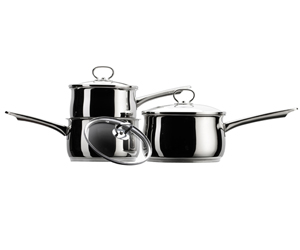 * Don't put an empty pan on a hot burner as it can damage the pan.
* Don't plunge a hot saucepan directly into cold water as this can warp the pan.
* Leave a pan to soak in warm, soapy water before scrubbing stubborn stains.
* Avoid using metal utensils as they can scratch the surface of the pan.
Use our product finder to find the right saucepans for you.
Visit housetohome's directory to find kitchen retailers in your local area.
Plus! Buy your saucepan set from the housetohome shop and receive a FREE 7-piece professional knife set