Floating shelves are sleek, versatile and can provide invaluable extra storage if you lack floor space and just can't squeeze in another piece of furniture. The brackets and fixings are hidden, making them ideal for minimal or contemporary schemes - there's a place for them in every room in your home. Arrange them with pretty jars and canisters in the kitchen, use them to create a striking colour-coded display of books in your living room or make use of an alcove - the possibilities are endless!
All you need to do is decide on the length required, how many shelves you want to put up and the finish (whether natural wood or sleek melamine) and you're ready to get started. The tools you will need for this job are:
Tape measure
Spirit level
Pencil
Electric wire & pipe detector
Electric drill (and drill bits)
Screwdriver
Screws and fixings: 50mm screws and plastic Rawlplugs if fixing to stone walls; 40mm screws if fixing to wooden studs; 65mm metal plasterboard anchors if fixing to plasterboard
Hammer
Steps 1-5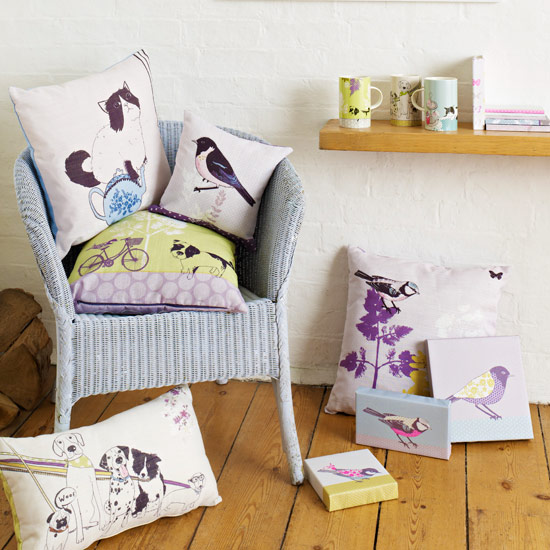 1) Decide where in your room you want the floating shelf/shelves to go. Use a spirit level and a pencil to mark a horizontal line on the wall the same length as the shelf, as well as a vertical line in the centre.
2) Place the bracket on the horizontal line, using the vertical line to make sure it's centred. Mark the position of the screw holes on the wall with the pencil. Then, using the wire/pipe detector, check the area of wall that you will be drilling has no cables or pipes.
3) Drill into the wall where your screw holes are marked (longer shelves will have more screw holes).
4) If your wall is made of brick or concrete, tap Rawlplugs into the holes with the hammer so they're flush with the wall. Screw the bracket into place, checking one last time that it's straight with the spirit level.
5) Slide the shelf onto the bracket. Fix in place with the screws provided, using the pre-drilled holes on the underside of the shelf.
Check out Ikea, Tesco Direct and Homebase for a range of floating shelves.
Have you put up floating shelves? We'd love to hear how you got on - Tweet us or get posting on Style at Home's Facebook page. And, if you've got pics of your efforts, upload those too!