Contemporary kitchen ideas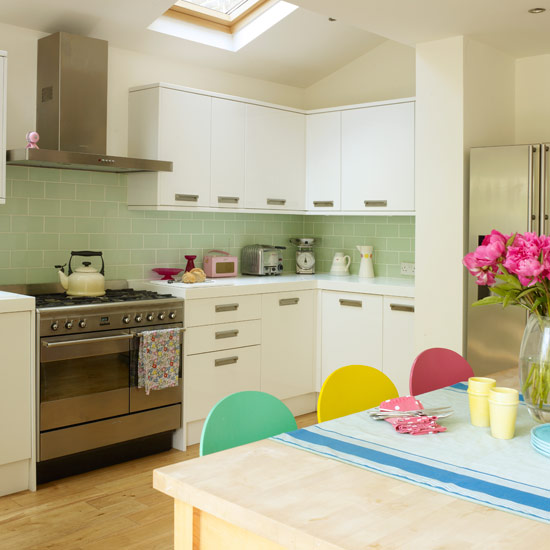 Clean and sleek contemporary kitchen designs
The mainstay of modern kitchen design is simple, flat-fronted cabinetry and it's a sleek look that's ageing well. Infact, much of what we consider to be contemporary kitchen design dates back to the 1930s. Even the streamlined cabinets so typical of current kitchen design have been around since the 1960s likewise the notion of an open-plan living area.
For a while, innovative schemes seemed to take starkness to a whole new level, cabinetry was pared down and invariably sleek, white gloss. Thankfully, present-day trends are a far warmer affair. The use of clean lines and a fuss-free finish are still prevalent but with texture, surface finish and soft colour bringing more personality and warmth.
Simple lines show off clever engineering, form and finish, and the latest design techniques have helped give new life to materials previously out of favour. Veneered furniture used to be prone to chipping and was no match for solid timber, says Neil Lerner, managing director of Neil Lerner Design. Advanced technology has changed that, plus the timber industry's new hi-tech approach has completely transformed furniture.
The new contemporary aesthetic offers huge potential and top-quality, stylish furniture in materials built to last. Bernard Otulakowski, managing director of SieMatic UK, advises: The key is to use sleek, handleless cabinetry and a rich combination of textures and materials to create an interesting and elegant scheme.
Keep it clean (pictured)
Give your kitchen a fresh, contemporary makeover with white-gloss units - combine with colourful accessories and warm wood flooring for a relaxed look.
Similar white units
Wickes
Similar dining chairs
John Lewis

Chosen by Style at Home
Photograph by Rachael Smith