En-suite bathrooms — 10 ideas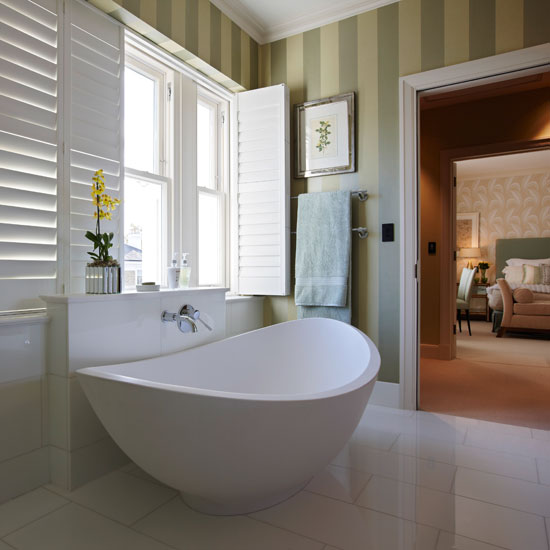 Design ideas for a luxurious en-suite bathroom
An en-suite bathroom is the ultimate at-home luxury. To be able to slip from your bedroom straight into a beautifully designed bathroom is a huge advantage. An en-suite bathroom will not only become a haven for you, but will also add value to your property.
If you have the space, an en-suite bathroom will create a personal space, just for you, away from the hum of family life and house guests. An en-suite allows you to design a room that is completely personal to you, so go all out on your chosen theme.
But what should you consider, when decorating your en-suite bathroom? First of all, think about the size of your room. Most en-suite bathrooms are on the small side, so make use of every inch of space with smart fittings and clever storage. Opt for a shower over a bath and make the enclosure the full width of the room, to open out the area and make sure you aren't wasting space. Hidden storage, behind mirrors and built into walls, is a great way to de-clutter and open out a small en-suite bathroom.
If you are lucky enough to have a larger en-suite bathroom, create an opulent space with a luxury freestanding bath, a walk-in shower, double basins and vanity consoles and extravagant chairs and soft furnishings, combining your bathroom with a dressing room for the ultimate getaway from everyday life.

Choose complimentary colours
When it comes to decorating, a good adjoining bathroom will always look like it belongs to the bedroom. You don't want to be too matchy matchy, but the colour scheme and overall style should sit happily side by side. In this Kensington townhouse designed by Joanna Trading, the green of the wallpaper is picked up as an accent colour in the bedroom beyond.
Similar wallpaper
Farrow & Ball
Shutters
The New England Shutter Company
Bath
C.P. Hart

Chosen by Homes & Gardens