Family kitchens - 12 of the best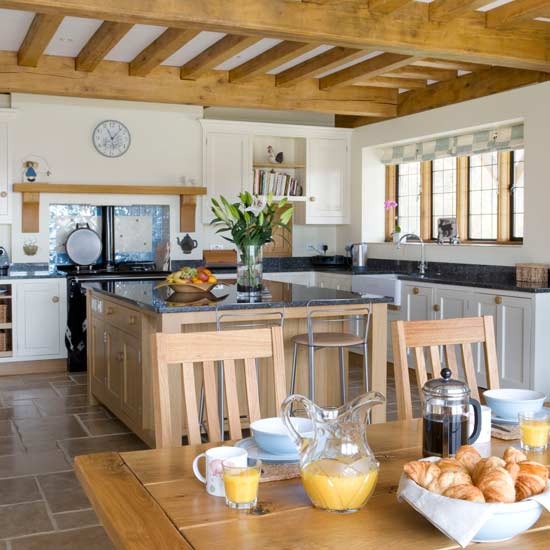 Perfect family kitchens
6 tips you need to know before you plan a family kitchen
Clever design, the latest technology and stylish furnishings come together to create a welcoming space for relaxing with the family and entertaining friends. Andrew Hall, managing director and chief designer at Woodstock Furniture, shares his 6 top tips for planning your layout.
1. Before you plan your layout, think about exactly how you may use the space and how to define specific zones. How you use lighting, if you add accent colour, where you position your cooking appliances and whether you can introduce a central island are all questions to ask to help you distinguish cooking and dining zones in a social kitchen.

2. Make sure you have a rapport with your kitchen designer, as you will be working closely together from start to completion. Ask to see examples of their work that depict kitchens designed for entertaining and ask to speak to the homeowners. Look for a company with a UK-based workshop where you can see kitchens being made and therefore see the quality on offer.

3. Banquettes can look great in kitchens and use space wisely. Usually designed and installed against one wall, they can also work well as a low wall divide between the kitchen and living areas but, if space is tight, you could always go for one booth or a corner design as opposed to two booths with a table between.

4. Opt for an island that can function as a showpiece as well as a multi-functional space, with a breakfast bar, high-performance induction hob and integrated appliances. If there isn't room for an island, a peninsular will often create an area where people can gather.

5. For a compact kitchen, factor tall cabinetry into your design to make the most of your walls for storage. Deeper work surfaces will also generate a lot more space for prepping or displaying items, plus it offers greater storage potential - look at increasing the size by an extra 10cm, floor space permitting.

6. To create an open, welcoming space, I often find that Corian is a good choice for work surfaces because you can easily achieve a seamless look. In addition, consider high-gloss units or light-coloured painted ones to bounce the light around. Complete the look with splashes of colour, as they lead the eye around the room and make this space flow, creating a sense of unity.
Kitchen diner with beams (pictured)

Keep the family entertained in an open-plan kitchen like this one. A central island with a black granite worktop is ideal for cooking while entertaining, and a light-wood dining table is perfect for breakfasts as well as dinner parties. Shaker-style units and exposed beams complete the country-style look.

Chosen by 25 Beautiful Homes
Photograph by David Hiscock