Modern living room design ideas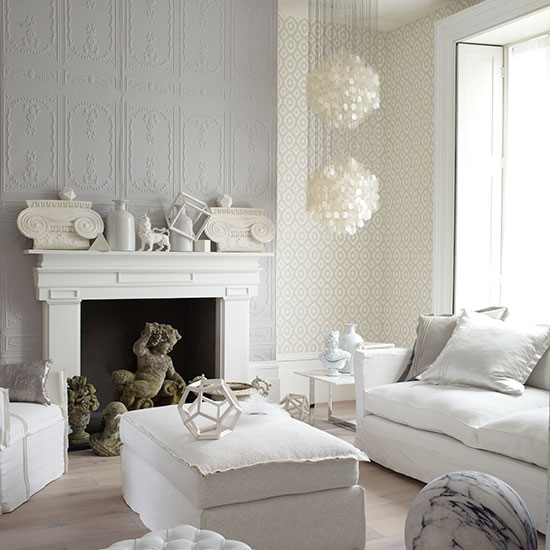 Stylish ideas for modern living rooms
Making the most of space and light is key to a modern living room design. Keep window treatments simple, to allow plenty of natural light in the room, or consider installing floor-to-ceiling bi-fold glass doors. Go for unfussy flooring such as solid or engineered wood flooring.
Keep the space light and open with a mix of soft neutrals such as pale grey, or a delicately patterned cream and white wallpaper. Add a chic modern pendant light, such as a shimmering mother-of-pearl design, to finish the look.
If you want to stick to white in the living room, you can still create a quirky modern space by adding some eyecatching wall art - why not go for an oversized painting, or perhaps some colourful pop-art? Printed designs like pop art can also be introduced on cushion fabrics and lampshades for a touch of fun.
When choosing furniture for a modern living room scheme, opt for low-level seating, a sideboard or a modern classic, such as mid-century style leather easy chair. Either seek out original 20th-century pieces or go for a modern take on one of these stylish designs.
Create a contemporary feel with geometric designs on rugs, which bring a fresh and colourful look to a neutral decorating scheme.
Go for grown-up glamour in the living room with statement lighting, such as a chrome standard lamp or sparkling chandelier, a large circular mirror that will reflect light around the room, and glass or gloss wood coffee tables.
For an urban warehouse-apartment feel, go for exposed brick walls and combine this backdrop with striking furniture and accessories. Choose furniture upholstered in bold jewel colours, or add unexpected pieces such as a woven or swing chair.
Shades of white and grey living room
Wallcoverings, fabrics and accessories in the palest shades of grey and white lend a calm yet refreshingly contemporary mood to this living room.
Similar light
Voga
Neutral sofa ideas
Made.com

Chosen by Livingetc
Photograph by Chris Everard